Free Fitness

at Revolution Indoor Cycling of Buffalo
---
We're hitting some awesomely scenic locations for FREE fitness all summer long. All classes listed here are FREE community classes, just bring a water bottle. No registration required.
Canalside
Join us down at Canalside on the Pierce Lawn every Monday night from 6-7pm on the Pierce Lawn for a FREE 60 minute body weight boot camp style workout. There will be lunges, burpees and a whole lot of fun! Sponsored by Blue Cross Blue Shield.
June 5th - Rachel
June 12th - Lauren
June 19th - Brandon
June 26th - Lindsay
July 3rd - Mandy
July 10th - Lauren
July 17th - Lindsay
July 24th- Brandon
July 31st- Emily
August 7th - Mandy
August 14th - Rachel
August 21st - Brandon
August 28th - Emily
Outer Harbor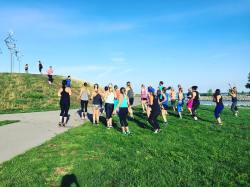 Come for the views, stay for the sweat. Some of your favorite Rev instructors will be leading a 60 minute body weight boot camp from 8-9am. Plan on lots of variety including body weight strength training and of course the jog up Wilkeson Pointe. Use this address to find Wilkeson Pointe: 225 Fuhrmann Blvd, Buffalo, New York 14203. Sponsored by Independent Health.
June 3 - Colleen
July 1 - Lauren
July 30 - Mandy
August 26 - Emily
TRX Tuesdays at Tony Walker