It's a rainy start to the week, so let's channel our own inner-Californian and learn more about today's Monday Motivator, Emily. She moved all the way across the country to attend nursing school in Buffalo. She's adjusted very well to her new surroundings here with the help of her nursing school friends, Lululemon and of course, the ever-welcoming clients at Rev.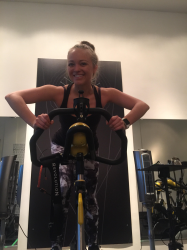 1. Give us a quick background on yourself.
I was raised in San Diego, CA for majority of my life, but was interestingly enough born in Toronto, ON. After finishing up my first degree at the University of Arizona, I moved to Buffalo, NY to attend nursing school at D'Youville College and have been here for a little over a year now. I moved alone and knew no one before my move, but have come to love Buffalo enough to call it home and have met friends I would consider family. I work as a nurse assistant at Sister's of Charity Hospital and also work at lululemon athletica, which originally introduced rev to me! I am so grateful to be part of such a wonderful community at rev that has such a positive impact on me both mentally and physically. Colleen, Amanda, and all of the rev community has welcomed me with open arms and has made my across the country transition, so much easier.
2. Describe your best workout in three words.
Confidence. Empowering. Enlightened.
Exercise gives me a sense of accomplishment and allows me to see the lengths at what my body can go to. It gives me strength in all aspects of my life.
3. What song(s) are you obsessed with right now?
I am such a sucker for any EDM or tropical house music, especially in the gym. My main baes are Flume and Kygo, but that totally varies. You'll find me occasionally Shazaming some of the girls' music during rev classes because they play the BEST music! Currently I'm obsessed with Fire (Paris Blohm Remix) by 3LAU, Neonheart, & Paris Blohm and Your Shirt by Chelsea Cutler.
4. Any healthy habits to start your day?

Generally the first thing I do when I wake up is make my bed, light up my diffuser in my room, make a cup of tea, pack up my bag for rev, and head on over for an early morning spin class (love me some 5:45am spin). After spin I go straight to work at the hospital.
5. Any indulgences you can't live without?


At the end of the day and right before bed, squeezing in some Netflix time is essential (& maybe some Halotop too).
6. Favorite workout on the bike? Sprints, hills, isolations or tap backs?
Call me crazy but my favorite workout on the bike are sprints. Although at the end of the workout, I have a love for all of them.
7. Favorite Buffalo food truck?

Okay so I still have not been to any food truck Tuesday events (currently on summer 2017 bucket list), but I have been to Llyods, which was amazing, and I've been dying to try The Healthy Scratch.