Don't let this rainy Monday get you down! We've got Joanne, kick-starting the week with some Monday Motivation for y'all. Not only does she rise and Rev with us a few mornings a week, but she just so happens to run the marketing program at the Lexington Co-op - and has done so for 14 years! Learn all about this rockstar in the Q&A below, and be sure to say hi to Joann around the studio this week.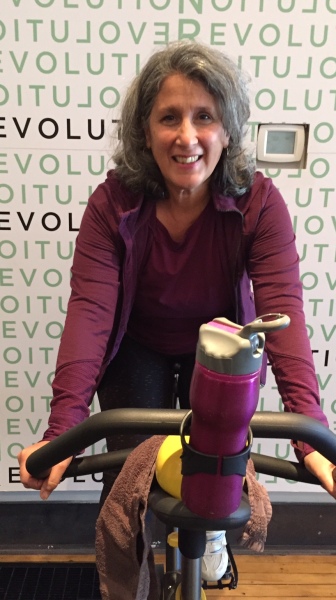 1. Give us a quick background on yourself.
I'm a tried and true Buffalonian. Owned a business on Elmwood for 15 years, co-wrote a book on cleansing, now I'm working at the Lexington Co-op as their Marketing Manager for the last 14 years. I'm married to Gary Robb, have a son Finn in college at RIT. Love traveling, cooking for family and friends, swimming, art openings and rearranging our furniture.

2. Describe your best workout ever in just three words.
Frustrating. Inspiring. Ass-kicking.

3. What song(s) are you obsessed with right now?
I'm bad with names and lyrics but love the Afro- Celt song Colleen plays - it's intense matched up with her hill climbing - has you doing more than you can imagine. Also the Bob Marley "Three Little Birds" makes me happy and set me on a reggae journey this summer.

4. Is there a mantra that motivates you?
Do what's in your heart. (My friend Samantha's saying.)

5. Any healthy habits to start/end your day?
Exercise is a great one to start! I try to eat seasonal, local and organic foods. Drink lots of water. Stay in the moment. Show gratitude. Get enough sleep.

6. Favorite move on the TRX?
The one where you cross your leg back as you squat - cross balance lunge. Stretches you from head to toe.

7. Favorite Buffalo Food Truck?
Lomo Lomo

This or that:
Rosé or margaritas? Rose and Gin and tonics.
Hip hop, Pop, Oldies or EDM for spinning? Love a great blend.
Tap backs or isolations? Tap backs are a new favorite. Challenging to do on both sides.