At Revolution Indoor cycling, one of our goals is to
partner with some of
best businesses our local community has to offer
. And, gasp!
Could our first partnership really be with another fitness center?
Why, yes, yes it could! We've got lots of class-act friends in the biz and we want to show some love and respect for all the different ways fitness professionals are helping to make lives in this very community healthier, every single day. And, plain and simple, it's a seriously
fierce
opportunity (and would make an impressive Christmas gift) to compliment your group studio workouts with us at Revolution Indoor Cycling.
So who is this mystery partner? Did you pick up on the clue in the first paragraph? It's
Fierce Fitness of Buffalo, NY!
Here's the deal:
Want to make your workouts twice as nice?
Fierce Fitness & Revolution Indoor Cycling are joining fitness forces to bring you an unbelievable deal!
Fierce Rev Membership
Purchase a 20-pack of classes from Revolution and receive a special gym membership offer at Fierce Fitness for just $29.99 per month. (Monthly payments available, 3 year contract.)
You'll love the boutique amenities and attention you receive at Fierce Fitness, combined with high-grade equipment in a clean and secure environment. Membership includes private key fob entry, so you can work out when it's convenient for you. Learn more about Fierce Fitness here. Contact Revolution Indoor Cycling or Fierce Fitness about this special offer.

Keep your eyes open more exciting news to come from this perfect pair!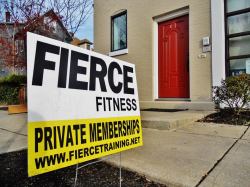 "Fierce Fitness, LLC (Fierce) is a private, personalized functional training facility located in the heart of downtown Buffalo, in the Elmwood Village. Fierce was founded by Giovanni Preziuso in 2005. We began with a modest 1994 (pink) Ford Escort that traveled from the parkways to basements of the Elmwood Village. Fierce is now located at 167 Ashland Ave, Buffalo, New York.
In 2011 Sherry Arndt Preziuso joined forces with her husband, Giovanni, and together we created a one-of-a-kind training facility. With pride, determination, relocation and renovation, Fierce has grown to a 4,000 square foot facility. 167 Ashland is a beautiful building with an old world charm that once housed horses, a car wash and a book binding business. One would never guess what lies behind the side door, but inside you will see a spacious and fully renovated, modern industrial training facility.
Fierce offers a private, friendly and secure training environment. Only members have access to the building via key-fob entrance between the hours of 5:00am and midnight, seven days a week (even holidays). By design, limited memberships are available, so you will not find yourself in a crowded gym standing in line for use of your favorite piece of equipment. Fierce specializes in tailored personal training programs and small personalized classes. On any given day, you may find yourself throwing a 140lb "green guy," climbing a rope, slamming battle ropes, building your cardio endurance on the Helix lateral elliptical, or simply lifting weights and taking a jog on a treadmill!"