Rev+TotalBodyExpress
This class is taught by: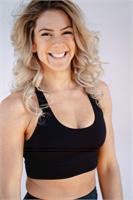 Lauren's been in the saddle cycling and getting all bendy and twisty in yoga for years. (Check out her Instagram to see all the poses she has mastered!) She continues to love leading class with two years of cycling and TRX instructing under her belt!
Certifications
Mad Dogg Spinning®, Indo-Row® and TRX®, NASM Personal Trainer
Class with Lauren
Motivating riders to push beyond their limits with a great mix of strength and endurance from heart pounding jumps to the thick, gritty hills. Exceed your expectations and love yourself for it.
Lauren's Motivation
"Step out of your comfort zone and unveil your greatness; ride your bike how you want to live your life."

Blast calories and build strength during the most effective 45 minutes of your day! Get in the cardio groove with the first half of class spent pushing pedals 'round and 'round on the bike. Take to the TRX for the second half of class, with a combo of TRX, body weight and kettle bell strength training.
Upcoming classes:
Sign Up

Tue

Aug 22 6:00 pm - 6:45 pm

with

Lauren

Corigliano




Tue

Aug 29 6:00 pm - 6:45 pm

with

Lauren

Corigliano




Tue

Sep 05 6:00 pm - 6:45 pm

with

Lauren

Corigliano




Tue

Sep 12 6:00 pm - 6:45 pm

with

Lauren

Corigliano




Tue

Sep 19 6:00 pm - 6:45 pm

with

Lauren

Corigliano




Tue

Sep 26 6:00 pm - 6:45 pm

with

Lauren

Corigliano




Tue

Oct 03 6:00 pm - 6:45 pm

with

Lauren

Corigliano




Tue

Oct 10 6:00 pm - 6:45 pm

with

Lauren

Corigliano




Tue

Oct 17 6:00 pm - 6:45 pm

with

Lauren

Corigliano




Tue

Oct 24 6:00 pm - 6:45 pm

with

Lauren

Corigliano