RevFit Strength
This class is taught by: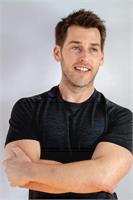 As a group fitness instructor and personal trainer, David has made Functional Training his professional focus. Using basic functional movement patterns like pushing, pulling, hinging, squatting and rotating - David is determined to have every client leave their session stronger, faster and more flexible than they came.
Certifications
AFAA Certified Personal Trainer, TRX and Tabata Bootcamp.
Class with David
Prepare to challenge your muscular strength, endurance and stability during a full-body high intensity TRX workout. Get ready to push, pull, lunge, squat and plank yourself to a healthier you!
David's Motivation
"There is always room for improvement. Never stop trying for better."
RevFit Strength
45 minutes of straight up, down and dirty strength training. You'll sweat through three signature stations, utilizing the TRX, dumbbells and an assortment of medicine balls, bands, kettlebells, plates and body weight moves to strengthen and lengthen all around. Think arms, abs, chest, back butt and legs. It's the total package. This work out is the perfect complement to anyone already Indo-Rowing or cycling multiple times per week.
Rev's signature workout, RevFit has been divided into two separate, but equally awesome formats. RevFit Strength and RevFit Cardio. This evolved programming thoughtfully pairs complementary disciplines (strength and cardio) to give you well-rounded workout options throughout the week. We recommend you attend two classes from each discipline per week (four classes total) for the best results. No class is ever the same, but it's always an amazing workout.
Upcoming classes:
Sign Up

Mon

Aug 28 5:00 pm - 5:45 pm

with

Lex

Chambers




Mon

Sep 11 5:00 pm - 5:45 pm

with

David

Pendley




Mon

Sep 18 5:00 pm - 5:45 pm

with

David

Pendley




Mon

Sep 25 5:00 pm - 5:45 pm

with

David

Pendley




Mon

Oct 02 5:00 pm - 5:45 pm

with

David

Pendley




Mon

Oct 09 5:00 pm - 5:45 pm

with

David

Pendley




Mon

Oct 16 5:00 pm - 5:45 pm

with

David

Pendley




Mon

Oct 23 5:00 pm - 5:45 pm

with

David

Pendley




Mon

Oct 30 5:00 pm - 5:45 pm

with

David

Pendley