RevFit Strength
This class is taught by: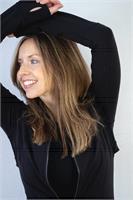 Lindsay has enjoyed 10 amazing years as a group fitness instructor and considers herself a life-long learner. So how did she get into teaching? Fitness is in her blood. Lindsay remembers as a child waking up to her Gramma teaching exercise classes in her basement studio! Lindsay shares a life-long passion for fitness and hopes to inspire you to reach your best potential!

Certifications
Mad Dogg Spinning®, TRX®, Indo-Row®, AAFA Primary Group Exercise, NETA Kettlebell Specialty

Class with Lindsay
#1 rule in class is that you have fun. Rule #2 is that you sweat! Be prepared for some heart-pumping beats as well as high intensity interval circuits. Lindsay will take extra care to explain form and technique in each of her classes as well as provide modifications. All you need to do is show up!

Lindsay's Motivation
Lindsay's mantra when it comes to achieving your personal fitness goals is that we are all beautiful works in progress. We each have our own goals as well as something positive to contribute to each class – it's important to celebrate the wins, learn from the challenges (or in Lindsay's words, "opportunities") and never give up on being the best you can be!
RevFit Strength
45 minutes of straight up, down and dirty strength training. You'll sweat through three signature stations, utilizing the TRX, dumbbells and an assortment of medicine balls, bands, kettlebells, plates and body weight moves to strengthen and lengthen all around. Think arms, abs, chest, back butt and legs. It's the total package. This work out is the perfect complement to anyone already Indo-Rowing or cycling multiple times per week.
Rev's signature workout, RevFit has been divided into two separate, but equally awesome formats. RevFit Strength and RevFit Cardio. This evolved programming thoughtfully pairs complementary disciplines (strength and cardio) to give you well-rounded workout options throughout the week. We recommend you attend two classes from each discipline per week (four classes total) for the best results. No class is ever the same, but it's always an amazing workout.
Upcoming classes:
Sign Up

Thu

Aug 24 5:00 pm - 5:45 pm

with

Lindsay

Meagher




Sign Up

Fri

Aug 25 8:30 am - 9:15 am

with

Lex

Chambers




Sign Up

Mon

Aug 28 8:00 am - 8:45 am

with

Lex

Chambers




Sign Up

Tue

Aug 29 12:00 pm - 12:45 pm

with

Lex

Chambers




Thu

Aug 31 5:00 pm - 5:45 pm

with

Lindsay

Meagher




Fri

Sep 01 8:30 am - 9:15 am

with

Lex

Chambers




Mon

Sep 04 10:00 am - 10:45 am

with

Lex

Chambers




Tue

Sep 05 12:00 pm - 12:45 pm

with

Lex

Chambers




Thu

Sep 07 5:00 pm - 5:45 pm

with

Lindsay

Meagher




Fri

Sep 08 8:30 am - 9:15 am

with

Lex

Chambers




Mon

Sep 11 7:00 am - 7:45 am

with

Lex

Chambers




Tue

Sep 12 12:00 pm - 12:45 pm

with

Lex

Chambers




Thu

Sep 14 5:00 pm - 5:45 pm

with

Lindsay

Meagher




Fri

Sep 15 8:30 am - 9:15 am

with

Lex

Chambers




Mon

Sep 18 7:00 am - 7:45 am

with

Lex

Chambers




Tue

Sep 19 12:00 pm - 12:45 pm

with

Lex

Chambers




Thu

Sep 21 5:00 pm - 5:45 pm

with

Lindsay

Meagher




Fri

Sep 22 8:30 am - 9:15 am

with

Lex

Chambers