Rev+UpperBody
This class is taught by: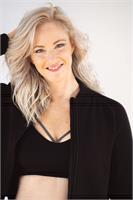 Amanda has been a regular in the saddle for more than ten years now! She loves getting up on the bike and pushing riders to get out of their comfort zone. In her three years as an instructor she's gained a world of confidence in herself and loves to see the same change within her clients.
Certifications
Mad Dogg Spinning®, TRX®, and Indo-Row®.
Class with Amanda
An intense, varied and thoughtfully crafted trip to breathlessness. Be prepared for some seriously positive energy!
Amanda's Motivation
"Exercise because you want to, because you need to, and because it makes you feel invincible."
Hit the bike for 30 minutes exhilarating, sweaty cardio, followed by 30 minutes of upper body strength circuits on the TRX system. Think biceps, triceps, shoulders, back and chest. (Because it's always tank top season.)
Upcoming classes:
Sign Up

Wed

Aug 23 5:45 am - 6:45 am

with

Amanda

Meyers




Wed

Aug 30 5:45 am - 6:45 am

with

Amanda

Meyers




Wed

Sep 06 5:45 am - 6:45 am

with

Amanda

Meyers




Wed

Sep 13 5:45 am - 6:45 am

with

Amanda

Meyers




Wed

Sep 20 5:45 am - 6:45 am

with

Amanda

Meyers




Wed

Sep 27 5:45 am - 6:45 am

with

Amanda

Meyers




Wed

Oct 04 5:45 am - 6:45 am

with

Amanda

Meyers




Wed

Oct 11 5:45 am - 6:45 am

with

Amanda

Meyers




Wed

Oct 18 5:45 am - 6:45 am

with

Amanda

Meyers




Wed

Oct 25 5:45 am - 6:45 am

with

Amanda

Meyers




Wed

Nov 01 5:45 am - 6:45 am

with

Amanda

Meyers




Wed

Nov 08 5:45 am - 6:45 am

with

Amanda

Meyers




Wed

Nov 15 5:45 am - 6:45 am

with

Amanda

Meyers




Wed

Nov 22 5:45 am - 6:45 am

with

Amanda

Meyers




Wed

Nov 29 5:45 am - 6:45 am

with

Amanda

Meyers




Wed

Dec 06 5:45 am - 6:45 am

with

Amanda

Meyers




Wed

Dec 13 5:45 am - 6:45 am

with

Amanda

Meyers




Wed

Dec 20 5:45 am - 6:45 am

with

Amanda

Meyers